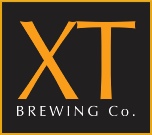 XT Brewing Co. Notley Farm, Long Crendon, Bucks , HP18 9ER
01844 208 310




The Eisbar cometh..
Our first craft lager has arrived. Straight outta Crendon after a long slow cold fermentation, this Vienna style lager brewed with English Hops for full flavoured refreshment .
With a superb aromatic balance this beer has a quintessential lager flavour, super pale, slightly dry, clean, crisp and very refreshing.
Unpasteurised and Unfiltered and Unfined - All natural and vegan friendly - expect this lager to be slightly hazy like a craft lager should be.