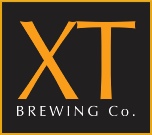 XT Brewing Co. Notley Farm, Long Crendon, Bucks , HP18 9ER
01844 208 310




XT - FOUR - 3.8% ABV Session Amber
A modern session amber ale – a blend of English and Belgian malts matched with American and English hops.
HOPS= Cascade and Brambling Cross.
MALTS= Pale, Abbey, Melanoidin, Crystal, Wheat
XT - THREE - 4.2% ABV West Coast IPA
An American style IPA – packed with Chinook, Columbus and Cascade hops from the American North West – crisp, clean and refreshing with a lasting hoppy bite.
HOPS= Chinook, Cascade, Columbus
MALTS= Pale, Vienna, CaraMalt, Munich
XT - EIGHT - 4.5% ABV Porter
A smooth rich dark porter beer brewed with a careful blend of four malts, along with a cocktail of hops to give a complex taste. Deep dark beer with roasty coffee flavours.
HOPS= Summit, Brambling Cross
MALTS= Pale, Crystal, Carafa, ChocMalt, Wheat
Animal Brewing Co - HOP KITTY - 3.9% Hyper Hop Pale
A Low on ABV pale ale, huge on Hops. Packed with more Citra and Cascade than ever before. HopKitty is bursting with intense tropical and citrus flavours. Lighty toasted malts give a hint of sweetness before a second round of hops, big Mango and Lychee zest courtesy of a generous Citra third round of dry hopping. Just like every crazy cat person, you won't be stopping with one.
[Formerly HopCat IPA Renamed following a trade mark dispute with an American bar company]
XT - SEVENTEEN - 4.5% ABV Single Hop Citra
A single Hop Pale Ale - Hopped with North American Citra Hops
Available on Rotation with the other 'Teen' Beers
XT - THIRTEEN version X - 4.5% ABV Pacific Red Ale
A red ale brewed with a cocktail of hops selected from nations around the pacific – Columbus from NW America, Galaxy from Australia, and Wakatau from New Zealand.
HOPS= Galaxy, Columbus, Wakatau
MALTS=Pale, Red, CaraMalt, Wheat, Crystal
Available on Rotation with the other 'Teen' Beers
XT - FIFTEEN - 4.5% ABV English IPA
Brewed to celebrate the new varieties of English Hops. This is an English IPA triple hopped, pale amber ale with caramel malt notes, lasting floral, hop character.
Available on Rotation with the other 'Teen' Beers
XT - NINETEEN - 4.2% ABV RED RYE IPA
A twangy red ale packed with 5 different malts and rye grains but it's a very hop forward beer
Available on Rotation with the other 'Teen' Beers
Rotating Core 'Teen Range'